From December to February the most proposals take place, with 40% or all proposals happening within these months alone. February really is the month of love which is why it make sense that it is also National Wedding Month.
Have you ever thought about getting married outdoors, dreamed about walking down the aisle with a warm breeze, fresh air and your dress blowing in the wind. Have you ever dreamed about the sun beaming down on you whilst marrying the one you love?
Here are some of our top reasons to get married outside!
Number of guests- you can make your wedding ceremony as intimate or extravagant as you wish    as outdoor venues are usually much more flexible.
Embrace the warmer months- with the sun beaming on you and your guests, there is truly nothing more special and mood boosting then embracing the sunny warmer months especially on your wedding day.
The beautiful scenery. The stunning sights you could see are endless and you are promised incredible wedding photos which you will treasure for a lifetime.
It is different, it's not every day that you see people getting married outside, take yourself out of the box, and be a little different!
It's a blank canvas- with no interior design you have free reign to choose the perfect colour palette for your day and can be assured they will match the stunning surroundings. You can also have a say on seating arrangements and type of seating as you have a wonderful blank space to work with!
This year we have exciting new things coming to Bewl Water and one of them is… Outdoors weddings! Yes we are building an outdoor wedding structure which means your ceremony can be held outside, meaning you will be able to tie the know right next to the stunning lake, with plenty of panoramic views to impress you throughout the day.
How unique would it be to say that your wedding was held by the largest stretch of open water in the South East! Not only would you be getting married with a view, our wedding packages include a night stay and breakfast on your wedding night at the luxury One Warwick Park Hotel in Chapel Place, Tunbridge Wells… Just a 20 minute drive from Bewl Water.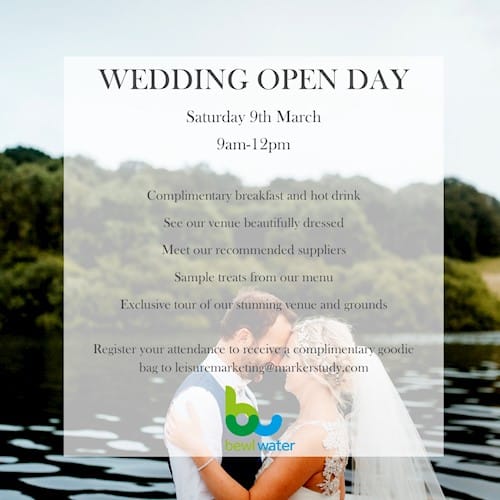 We are holding a wedding open day on the 9th March 2019, come and visit us and let us discuss your special day! We will give you the fairy-tale wedding that you have always dreamed about.
Why wait to plan your big day start planning it now, here at Bewl Water. If you book your wedding at Bewl Water this month before the 28th February you will receive a 2 course meal, overnight stay and breakfast for two at Bewl Water. All you have to do is quote 'FEEL THE LOVE' to redeem.