That's right, it's officially National Picnic Week! A week of celebrating all things we love about this iconic tradition we spend enjoying in the British summer!
Bewl Water is the perfect spot to enjoy a hearty picnic, with panoramic views and plenty of space for you to share with family, friends and of course your four legged friends – (don't forget to pack plenty of treats for them too!).
To help you plan for your wonderful day out in the sun we have some to tips help you enjoy your picnic feast!
Snacks to keep you going…
Carrot sticks and hummus
Crisps
Homemade guacamole
Family favourite – Scotch eggs
Sausage rolls, cut in to bite size bites
The main event…
Skewers of cooked meats, season, cook and eat when cold!
Selection of cold, deli meats
Choice of cheeses with chutneys and grapes
Quiche
Homemade sandwiches with classic fillings: e.g. mayonnaise, tuna, ham and cheese and, of course, cheese and tomato!
Served on the side…
Greek Salad, with plenty of feta, olives, fresh tomato and a drizzle of olive oil, yum!
Classic potato salad
Homemade coleslaw
The essentials
The little (important) bits we always forget: bin bag, kitchen rolls, cooler bag and most importantly a comfy picnic blanket!
Lastly, make sure you pack lots of sweet treats and fruit to finish- you will need the extra energy to play that last game of rounder's after all!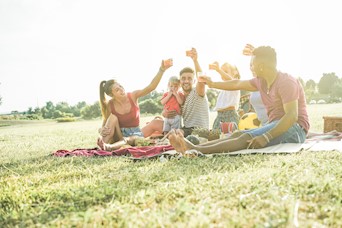 Tips for packing for a picnic
We all know how frustrating it can be when you open up your picnic and everything has been squashed and looks inedible! Here is our top packing tips to make sure everything stays fresh and arrives picnic-perfect and ready to be enjoyed!
Firstly, make sure you pad the bottom of you basket for insulation.
Then make sure you keep any dairy products cool and raw meats packed separately.
Pack heavy items like bottles at the bottom of your basket.
Take some ice to keep everything cool.
Leave items such as salad and bread at the top!
Join us at Bewl Water to indulge in your picnic food, enjoy the stunning grounds and of course the breath-taking view overlooking the largest reservoir in the South East.