The Bewl Water Big Dog Day is just around the corner, we hope you are as excited as we are! Big Dog Day Out is a fantastic and fun day with plenty of stalls and activities to keep adults and children entertained,  not to forget your furry friend too!
This week we get to know some of our exciting exhibitors, here's our exclusive interview with The Folly Wildlife Rescue, a rescue and rehabilitation charity for injured, orphaned and distressed wild animals and birds throughout West Kent, East Sussex and the surrounding region.
Tell us about Folly Wildlife Rescue?
Folly Wildlife Rescue began its work in the garden of its founders, Annette and Dave Risley in 1993.
Comprising just a few converted sheds and a range of aviaries, pens and hutches, in its first year of operation it admitted just 180 animal casualties – but by 2019 this number had risen to over 4000!
Vast numbers of wild animals and birds are now being killed and injured every year in a range of largely man-made incidents. These include road traffic accidents, but also attack by dogs and cats, entanglement in discarded litter, rope, electric fencing, plastic garden and games netting and derelict fencing. Others drown in water butts and steep-sided ponds, fall into drains (with broken or missing covers), are injured by garden machinery, burnt in bonfires, entangled in discarded fishing line and hooks, fly into windows or are shot or poisoned – and these are just some of the many incidents we see that are taking a huge toll on our natural wildlife.
In 2012, after operating from the garden of their home for 20 years, Annette and Dave, their trustees and supporters were able to open a purpose-designed wildlife hospital just outside Tunbridge Wells. The Broadwater Forest Wildlife Hospital, set in 7 acres of the beautiful High Weald Area of Outstanding Natural Beauty is now, 7 years on, one of the country's leading wildlife centres, boasting specialist facilities for hedgehogs, deer, badgers, a huge range of wild birds and a veterinary unit that includes a digital X-ray machine.
The Trust also operate 3 wildlife ambulances, including a dedicated deer rescue truck (attending 280 incidents in 2018 alone), and operate a service for collecting wildlife casualties from people without their own transport, the elderly, the disabled and veterinary surgeons throughout the region.
In addition, its education assistants go into schools, colleges, communities and youth groups to raise awareness of the plight of wildlife and demonstrate how everyone can help prevent accidents happening in the first place.
How can the public help Folly Wildlife Rescue?  
In common with other wildlife charities, Folly Wildlife Rescue receives no local or government funding or lottery support, and has to rely on gifts, grants and the generosity of its supporters.
And the drain on its limited resources are huge, as despite keeping staff numbers and expenditure to a minimum, expenditure very often exceeds income.
The best way for people to help this vital and deserving cause is to become a Friends of Folly Wildlife Rescue, the Trust's supporter group, It costs just £3 a month (although you can give more if you want to) and in return you'll receive a Folly fridge magnet, 6-monthly newsletters and regular monthly Wildlife Matters email bulletins. Best of all, you can even visit the hospital for a 'behind the scenes' tour!
Donations are also very welcome and can be posted or made on our website.
What type of animals do you look after at the centre?
All UK wildlife found in the region, so every conceivable bird you can think of (plus the occasional rarity) as well as hedgehogs, badgers, deer, squirrels, bats, dormice, weasels, mice, voles, stoats, snakes, lizards, frogs, toads, newts and even the occasional fish and invertebrate!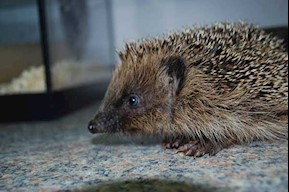 Image By Folly Wildlife Rescue
What plants are best for wildlife?
We always suggest that the most important thing for wildlife is to leave part of your garden wild – so giving a natural habitat to the wild creatures that we often don't know are there – invertebrates, frogs, toads, newts and hedgehogs – and a pile of old logs will encourage beetles and grubs, that in turn will draw in wildlife.
Plants, especially flowering plants are good too, because not only do they brighten up your garden (very good for we humans too!) but provide habitat for a wide range of bumblebees, honey bees, moths, butterflies and other insects, to feed, breed and lay their eggs.
Traditional English plants are your best bet, so verbena, scabious, ice-plant, lavender, thyme, marjoram, honeysuckle, wild rose, cornflower, foxglove and ivy are all very good!
The Folly Wildlife Rescue Trust
Broadwater Forest Wildlife Hospital
Fairview Lane
Tunbridge Wells TN3 9LU
www.follywildliferescue.org.uk
Follow us on Facebook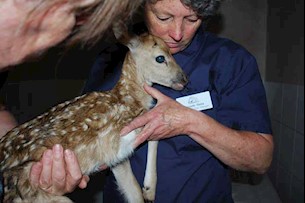 Image by Folly Wildlife Rescue
Don't miss out on the chance to meet Folly Wildlife and all our other stalls on the day, register your interest here