Blog: Camping at Bewl Water: A Beginners Guide
2020 marked the year of camping – from endless travel bans to plenty of lockdowns, pitching up became the answer to those looking for safe ways to leave the home during COVID. Two years later, the great outdoors remains a top travel destination as it holds on to its pandemic popularity and as one of the most affordable travel options, it's not surprising to see so many tenderfoots swap foreign sun loungers for s'mores and sleeping bags.

What are the benefits of camping?
Whether you're a die-hard camping fan, looking for a low-cost break, or reliving childhood memories, there are so many good reasons to spend the night in the wilderness. Two of the biggest advantages to camping are the mental and physical health benefits. If you're in need of stress relief and a recharge, grabbing a tent and heading outdoors is a good way to make it happen. Camping has been proven to improve your mood, memory, sleep pattern, exercise habits as well as better relationships and problem-solving skills!
What are the different types of camping?
The different types of camping out there can easily put you into various categories – some are purists whereas others are there just for the experience. It's important to work out what type of camping you want to get involved with, as it'll influence the type of equipment you'll take and the campsite you choose.
Campsites
By far the most popular choice, campsites are typically large outdoor areas divided into several pitches where campers can pay for an overnight stay using their own tents, campervans, or caravans. There are usually two types to choose from: an impromptu campsite for backpackers and hikers usually steeped in the middle of the wilderness, and a designated area with various facilities including running water, cafés, and leisure activities. Wherever you pitch up, be sure to check the rules of your chosen site as some will have regulations commonly regarding tent and group sizes.
Dry
Adventurous types familiar with the secrets of dry camping know it's a far cry from a convenient travel option. But for those who love the idea of getting away from it all, secluded in the middle of mother nature herself, this off the grid style of camping makes for quite the adventure. At a dry campsite, you're tucked away and totally shut off from the real world, completely reliant on the supplies you brought along with you. This could be a tent and a pillow, a luxury motorhome, or anything in between. Due to its isolated nature, safety is a big issue to consider when deciding whether to dry or standard camp, so be sure to do your research beforehand.
Music festivals
Music festivals have become somewhat of a summer tradition in the UK, and aside from banging music and boozy beverages (obviously), one of the big draws for festival goers is camping with their nearest and dearest. If you're new to the festival camping scene, there are a few things you should know: they get busy, and we mean really busy. Often there are no specific pitches, but designated areas meaning securing your spot all comes down to where your tent will fit, so its best to arrive early. Festivals also have their own regulations regarding tent sizes and cooking equipment so it's worth checking that your gear adheres to these rules. Oh, and one more thing, things get dirty real quick. Expect ankle-deep mud and three days without showering!
Glamping
What do you get when you mix glamour with camping? Glamping of course! Once deemed a fad, the term has gone from just another viral buzz word the latest staycation trend and is loved by outdoor enthusiasts and luxury travel goers alike. From yurts to tree houses and everything in between, glamping is far more luxurious than traditional camping. Glampers can enjoy all the comforts of their own home whilst getting up close and personal with nature. It's a way to experience the most untamed parts of the world and reconnect with the outdoors – all without having to sacrifice a comfy mattress or a hot shower!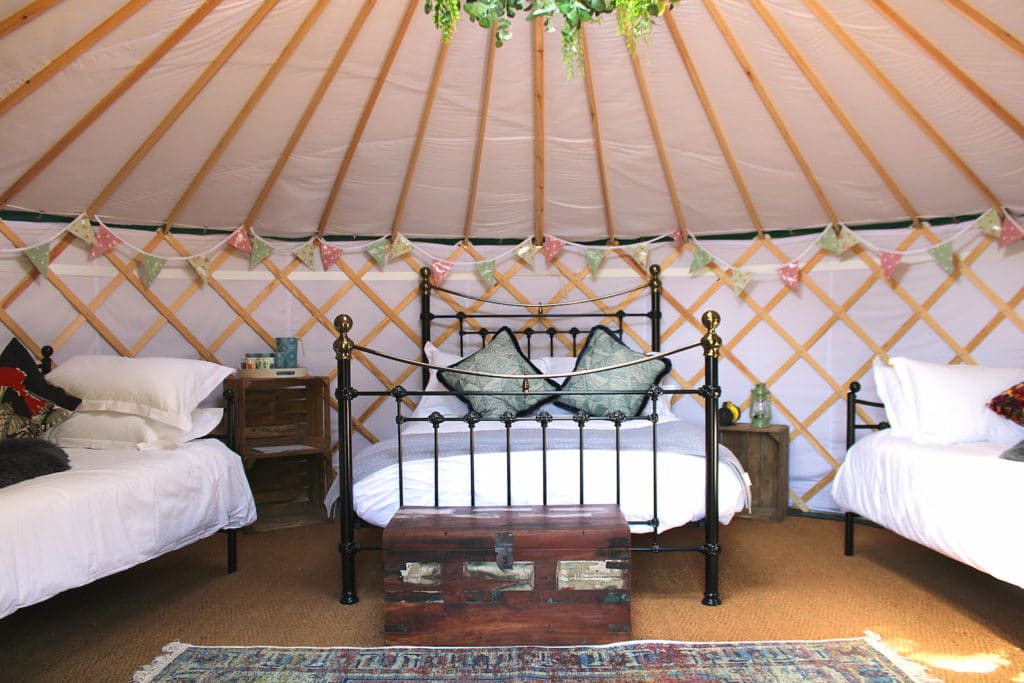 What size tent will I need?
Tent berths are based around how many people the tent bedroom can fit side by side. However, they do not consider your camping gear, so it's a good idea to size up to allow enough space to store your essentials and have a comfortable amount of room to sleep. Other considerations include your chosen campsite's size limitations and the components of the tent itself – how easy is it to put up? For those travelling with children, a pop-up tent is ideal to cope with low boredom thresholds whereas teens might enjoy the challenge of a more complicated structure.
What do I need to pack?
When it comes to packing, there's nothing wrong with being over-prepared. Sure, packing light is handy, but for your first trip you won't know what you really need until you've been a few times, and as every camper is different, the list of essentials, must-haves and optional extras is endless, so it helps to have a little guidance to ensure you don't forget a thing.
Tent and pegs
Tent footprint
Tent carpet
A sleeping mat or airbed and pump
Sleeping bags and extra duvets
Pillows
Camping stove or barbecue
Gas or charcoal
Pots, pans, and utensils
Cutlery and tableware
Can and bottle opener
Water carrier
Lounger or camping chairs
Camping table
Torches
Electric hook-up
Spare batteries, portable charger, and cables
Bin bags
Camping table
A windbreak
A mallet
Duct tape
Tent repair kit
A brush to sweep away dirty
Penknife and pliers
Extra guyline or string
Cleaning equipment
Matches or a lighter
Wet wipes or cloths
Personal medications (plus extras just in case)
Toiletries (soap, shampoo, conditioner, toothpaste)
Toothbrush
Hairbrush
First aid kit
Sun cream
Hand sanitisers
Insect repellent
Toilet roll
Waterproof clothes
Umbrella
A spare change of clothes
Sleepwear
Underwear and socks
Woolly hat, gloves, or sunhat
Suitable footwear
Booking details and any tickets
Camping in Tunbridge Wells
If you're looking for peace and quiet, a place to unwind and enjoy a tranquil break in a lakeside setting, camping at Bewl Water will have all your boxes ticked. Bewl Water is the perfect environment for families and couples who want a chance to enjoy the outdoors and embrace a real break away in one of the seven wonders of the weald.
Visit our camping page for more information and to book your first camping trip.