Have you heard of laser tag? Maybe you're wondering exactly what it is? The short answer is that it's a huge amount of fun!
Remember being a kid, running around zapping the baddies with your imaginary lightsabre? Laser tag is like that, but this time you're a grown up and you have a 'real' laser gun. And the baddies are your mates, and you're in a beautiful forest dressed in combat gear. Army-style facial mud smearing is optional.
How do you play laser tag?
The basic aim of the game is to hit points on other players' bodies with your laser gun, without getting zapped yourself.
There are lots of different game types using this basic principle, for example Team Deathmatch, Last Man Standing, Attack and Defend, Hunt the VIP and Manhunt.
Here's how it works if you play laser tag in Kent, at Bewl Water. Players are kitted out with rifle-style laser guns and sensor packs. At least 10 players are needed for a session, which lasts one hour.
You choose your game type, then there is a 10-minute briefing and demonstration to make sure you understand how to play, then you head out into the specially-designed forest arena and get those laser beams popping for the next 50 heart-stopping minutes.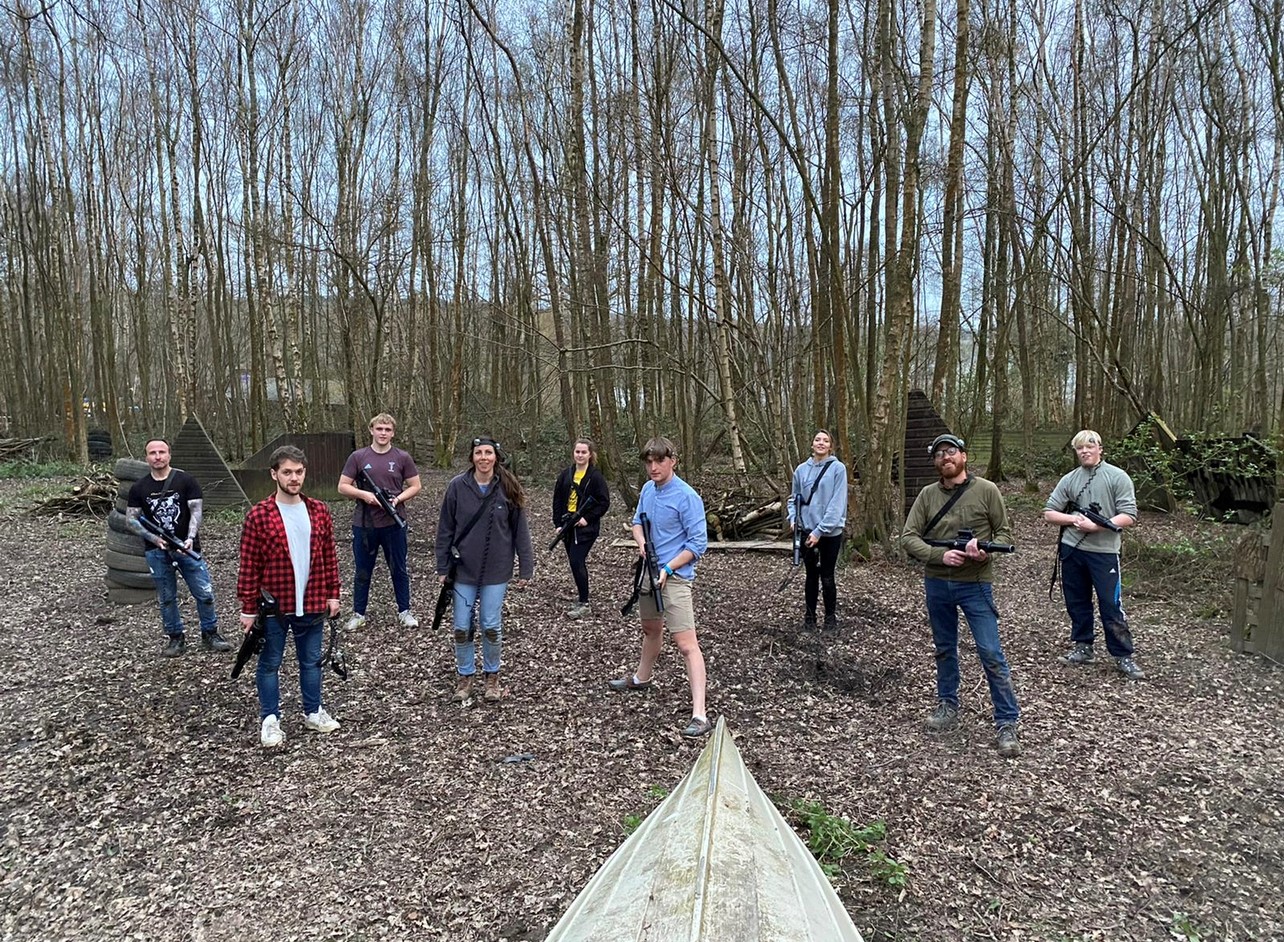 How is laser tag different from other laser games?
The most important thing about laser tag is that it is played out in the open. This gives a really different vibe from old-skool laser games which were played in dark rooms with lots of neon lights and dry ice.
Both types of laser game will get your heart racing, but an indoor game often feels a bit more sinister and creepy, with lots of hidden corners and sniper holes.
Being in a forest arena means you have to use different strategies than you would in an indoor setting, for example making use of trees and bushes for cover.
What is the benefit of playing outside?
Being outside in a green space has lots of benefits. It helps to reduce stress and relieve tension, helping to boost the immune system and avoid harmful inflammation.
Being outdoors is also a million times more interesting than exercising in an indoor environment such as a pool or a gym. Seeing the sky and the clouds, watching animals chase each other and play, hearing baby birds chirp in their nest – there are experiences in nature that you just don't get if you stay within four walls.
Being in the fresh air helps to focus the mind, improving self-esteem and helping to achieve fitness goals. Being outdoors means you get a full dose of natural vitamin D from the sun. Vitamin D is important for healthy muscles, bones and teeth as well as boosting the mood – think of that positive feeling you have when you've been enjoying the sun for a while.
There's something about playing a combat-style game outside that is really special. Walking through woodland, straining to hear if anyone is approaching and being hyper-aware of your surroundings – somehow you feel in touch with the forest in a different way. If you don't feel that, you can at least pretend to be a space-age Robin Hood!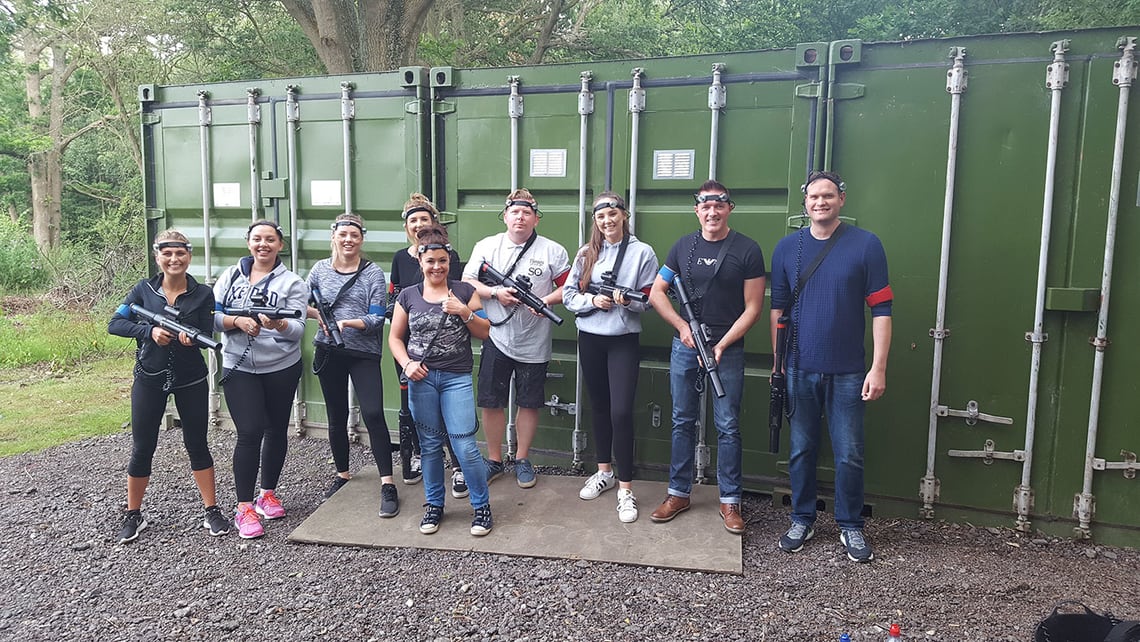 Does laser quest hurt?
No! Unless you count hurt feelings if you get thrashed by the other side…
Joking aside, laser challenge in Kent is a great alternative to games such as paintball, which involve impact that can cause soreness and bruising (not to mention a lot of mess!).
These are not the kind of lasers that could carve up your body, James Bond-style. Each player wears a light pack that senses when it has been 'shot' by a laser beam. These packs award points for zapping someone else, or deducts them when you are hit yourself.
Of course, any activity which involves running around will carry a certain amount of risk. Players are advised to wear clothing which is suitable for the outdoors, such as long sleeved tops, trousers and boots. This is especially important during the winter when the ground is more likely to be slippery.
Players also need to complete a disclaimer at the point of booking.
Is laser tag suitable for children?
Yes, children aged 8 and over love to play laser tag. In fact, laser tag is a brilliant option for older children's birthday parties, or for family fun days out in Kent. Bewl Water is also home to the Boat House Bistro and Waterfront Cafe so you can head down for a bite to eat after your game.
Not only is laser tag great fun to play with your kids, it's also a sneaky way to get your little darlings to run around outside in the fresh air for an hour – not always the easiest task!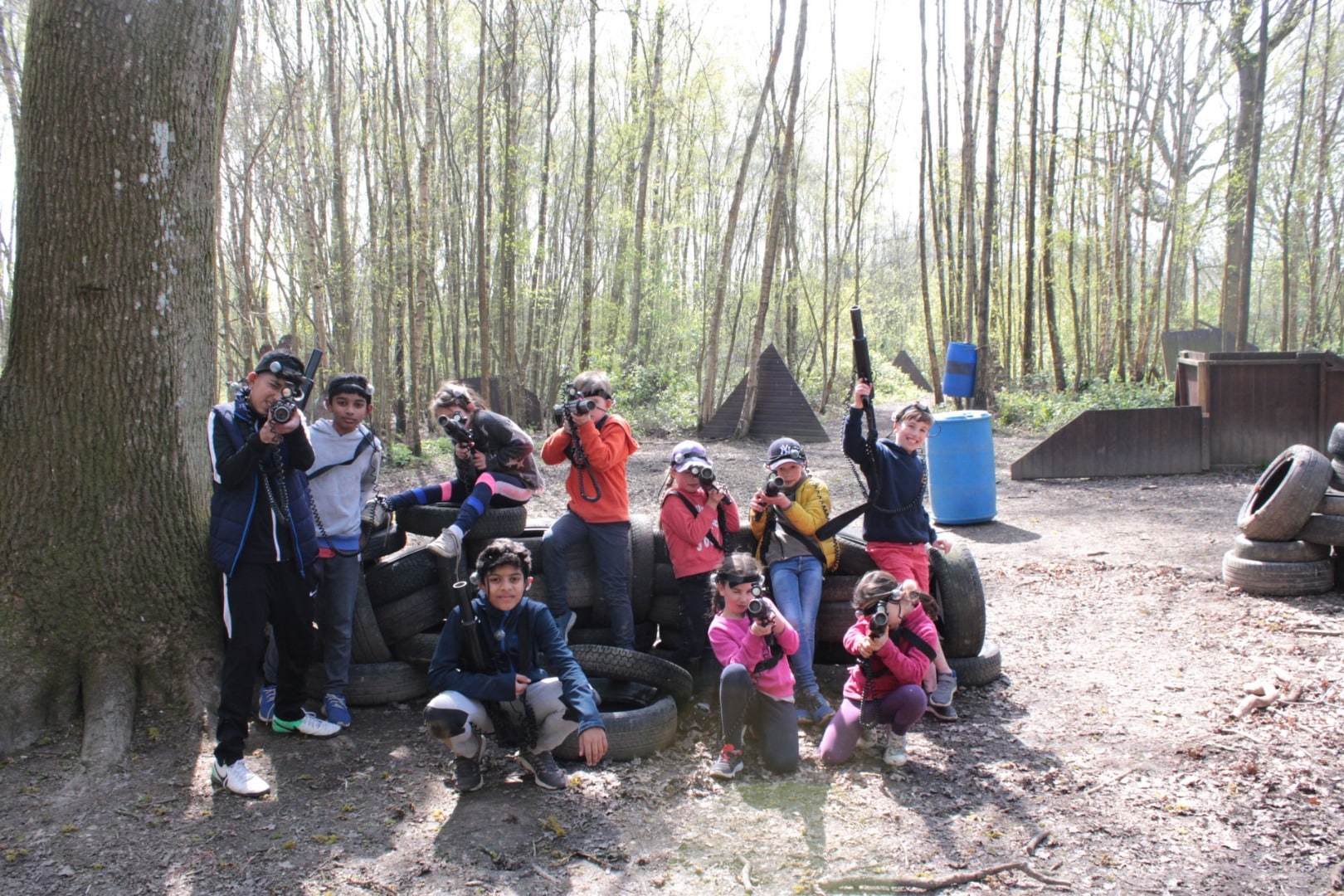 Bewl Water is a brilliant site for laser tag – the forest arena is a wonderful setting for some serious attack and defence.
When it comes to the practicalities, you can book online and should arrive at least 30 minutes before your game is due to begin. On arrival at Bewl Water, head to the Waterfront Cafe to register then you will be directed to the laser challenge area.
Parking is included in the price of the booking (£15 per player) and valuables should be left in your vehicle or with an accompanying adult.
You can play laser tag at Bewl Water between 10am and 4pm on weekends, or from 11am daily on weekends during half terms and the summer holidays.
Want to smash the competition?
Need to up your game before a laser quest session with your friends? Why not take a laser tag 'tactical masterclass' session, with tuition on how to play the game in the most effective and awesome way.
These sessions are great for hen and stag dos, corporate away days and people who just find it hard to lose! The sessions last 90 minutes and take a maximum of 20 people.
Get a quote for your laser quest game today.