Wedding days are always full of pleasant surprises, including the anticipated wedding favours, a small gift for each guest as they take their seat. We have listed below some ideas to inject a little more fun on your special day.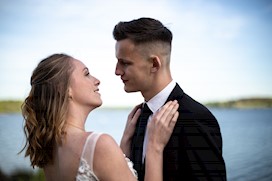 SEEDS
Seeds are a great wedding favour; your guests can watch them grow like your love! A nice touch is popping seeds from any flowers used in your bouquet or wedding decorations, seal in a little personalised bag and watch the photos come flooding in when they start to bloom!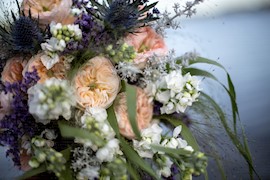 PERSONALISED CHOCOLATE
A sweet touch, which will leave an impression on guests. Mini homemade chocolates with your initials or wedding date and package in a small gift bag. Guests will enjoy tucking into this after their meal. A great talking point at an affordable price.
LOTTERY TICKETS
As you have been so lucky in love, share the luck with each of your guests with a lottery ticket! You can personalise tickets by popping them in little paper bags stamped with a message from yourselves.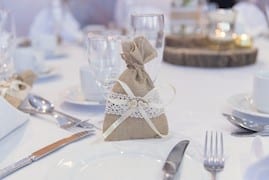 PROPS
Encourage your table to interact and have a giggle before, during and after the wedding breakfast. Place a different prop (themed to your wedding if possible) in everyone's place and put a disposable camera in the middle. These make great keepsakes after your big day. Alternatively, use Polaroid cameras so everyone can take a little photographic memory of your big day away with them!
HOMEMADE GIN BOTTLES
You can have a little fun (and of course a few samples on the way) whilst creating this miniature bottles of joy. There are plenty of variations to choose from including sloe gin, elderflower or even rhubarb – the possibilities are endless!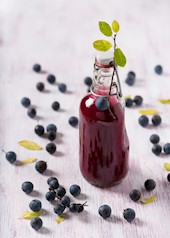 HOMEMADE CANDLE
DIY favours are great fun to make and add a personal touch to favours. Choose a scent you both like and make a large one for yourselves and miniature ones for your guests. Every time you and guests light the candle, it will take you back to your special day. If you don't like the idea of making from scratch simply purchase the candles and add a personalised sticker to each.
SPARKLERS
Let love sparkle! These are a great idea for congregating guests after the meal and make for fabulous photo opportunities once the sun has set.