A sure sign that spring has arrived came on Tuesday 21st March when more than 200 eager anglers cast their first lines of the new fishing season at Bewl Water, the 40th at the reservoir on the Kent and Sussex border.
Many arrived before sunrise to claim the best spots on the bank or take out one of the fleet of new boats and make the most of the first day's sport, which started at 6.00am. The day started with a very cold light wind, warmed up later with a beautiful clear blue sky early on.
Date in the Fishing Diary
"The start of the new season is a red letter day in every angler's diary and this year's was extra special for the team here as we celebrate our ruby anniversary as a fishing lake," said Howard Mackenzie, who has worked at Bewl for every season.
"After the quiet winter months it's always a welcome sight to see so many familiar faces and first time visitors so eager to get out here and fish. Quite a few of the fish weighed in at over 4lbs with the largest caught being 6lbs 8oz."
Top Spot for Catches
The top spot was Rosemary Lane into Bewl Straight where most anglers congregated and caught plenty of fish from both boat and bank.  Six-year old Logan Pollard, fishing with his father, caught a beautiful rainbow on his first cast of the day on a spinner. Many flyfishers took plenty of fish from the top four feet of water on a multitude of flies ranging from black and green lures through to Damsels.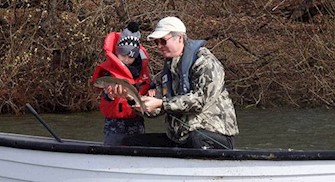 Already this year, 7,600 rainbow trout ranging from 2lbs to 3lbs have been added to the lake, the first of 40,000 that have been ordered for 2017. The latest restock adds to the many overwintered fish from the 40,000 brought in to the reservoir last year.
As well as the restocking, 24 new Coulam Defender 15 boats have replaced old Tidal Flyfisher models for those who prefer to get out on the water to fish.
Full details and prices for fishing at Bewl Water can be found on our fishing page. Please call 01892 890 000 for bookings.