We caught up with Stewart & Stephen following their beautiful wedding at Bewl Water…
How did you meet?
We meet via Instagram. Stewart liked one of my photos and I messaged him and it went from there.
Tell us about the proposal.
Stewart didn't want anything fancy he just told me, if I were to ask, make it simple and genuine. I had hockey training that night in Teddington and I knew I had limited time to get from training to Stew's place on the Isle of Sheppey. I would usually call him when I got home then he would go to bed. I called to say I was stuck in traffic and I would call him in 40 mins. He was hoping for an early night as he had a swimming session first thing in the morning. So I then belted down the M25, M26 and M20, and when I got to his place I called him and he asked if I got home safe, I said yes and rang his door bell. When he heard the bell he could not believe someone would be at the front door at 10pm! When he opened it I was on one knee in the street with a ring.
Why did you choose Bewl Water?
I was blown away by it immediately! Location, view, then the staff – in particular Emily Isaac and Phil Daley put the icing on the cake. It was truly the best venue I had looked at. I told myself "don't choose the first one" but Bewl Water was the first one and every time I went and viewed a new place I kept coming back to Bewl Water.
What was the theme and colour scheme?
Stewart's Mum was great with the flowers. She brought a bit of Scotland with the thistle and a bit of Australian with the eucalyptus. Stew's Dad is Scottish and I am Australian so it brought the two backgrounds together. We also liked the look of fairy lights in wine bottles as table décor which helped add some sparkle to the table without being to overbearing. We looked for colours for a long time, we both thought a slate blue was great for the gents and coral would bring some life and colour to the photos.
Tell us about your outfits, why did you pick them?
I went for a suit which was simple yet formal. Stewart wore a kilt to represent his heritage.
What music did you have, did it have a special meaning?
Our song is Into You by Ariana Grande. We found an acoustic version and that was our first dance song. I walked down the aisle to Latch by Sam Smith as the lyrics really spoke to us and it was a lovely acoustic version too. We signed the wedding certificate to Touch by Little Mix –  a nice slowed down version which again, speaks to us with the emotion and affection the lyrics deliver.
How did you both feel on the big day?
Stew tries to mask his emotions, he rarely cries unless its about dogs (he is a dog walker!). When I walked down the aisle I could see how happy he was and that's what this is all about – the joy of marrying your person. For us, the wedding day was certainly a relief, planning a wedding can be trying on a relationship as well as with friends and family. We were so glad it all fell together and that Emily and Phil where able to make it flawless. I had an hours drive from home to Bewl Water on the day, I was very nervous as my family and friends had all flown from Australia. While it was great to have them there, I truly missed my little sister who was not able to make it and of course, my dad who passed away when I was 11. Gosh, it would have been amazing for him to see where I am and what I have achieved.
What was your favourite part of Bewl Water?
Other than the staff, the view and the way it makes you feel calm. The water completely adds this 3rd dimension of relaxation and life.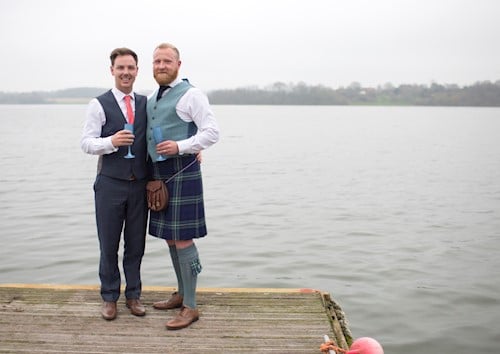 Photography by Wendy Marie Photography.