Bewl Water's Big Dog Day Out is less than two weeks away, and here at Bewl Water we are very excited! We want you to get to know the exhibitors attending this fun filled day, meet The Car Boot Dog Bed Company:

Tell us about The Car Boot Dog Bed Company?
The Car Boot Dog Bed Company makes marvellous reversible complete car boot dog beds and reversible mats to suit a variety of dog travelling options from small crates in hatchbacks up to large 4×4's and SUV's.
Our most popular products are durable waterproof one side and soft towelling on the reverse. These are available in full car boot dog beds with soft fenders which fit into the contours of your boot reducing stray hair etc. and a muddy scrabbler flap to protect your car bumper as well as simple reversible Mats.
We also have a fleece/towelling reversible range of mats in a choice of colours from a Dark pink to a subtle grey…. many of which are popular for use at home too.
Everything is machine washable and made in the UK, so even our bespoke size waiting times are short.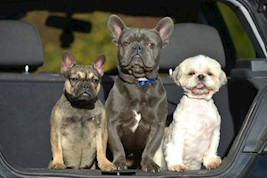 When did you start The Car Boot Dog Bed Company?
We began in 2017 and are delighted with how well received our products instantly were. Last year we took our range to several great events as well as selling online and we are very excited about 2019 shows, starting with meeting lots of new people and their dogs at The Big Dog Day Out at Bewl Water on 30th March.

Do you have any dogs?
Yes. Lily, my constant companion, a smooth haired Fox Terrier.

What's your favourite breed and why?
Impossible to say, I've had four gorgeous Rhodesian Ridgebacks, my Jack Russell, Henry, was my page boy when I got married and I still miss my three other long departed terriers.
Probably best to say Hound and terrier breeds are my favourites.

Do you have any top tips for Dog Owners?
Be consistent in your behaviour – don't be grumpy about things they don't understand (like getting muddy!). Give plenty of attention and affection. Train and feed your dog well and you'll have a wonderful life together.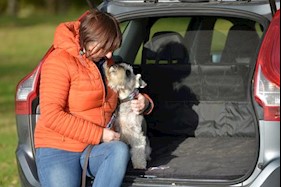 Don't miss out on the chance to meet The Car Boot Dog Bed Company and all our other stalls on the day, register your interest here