It's time to face reality: summer is almost over. But despite back-to-school drop offs, darker mornings, and the faint, imminent waft of pumpkin spice lattes in the air, there's still plenty of time to soak up what's left of the warmer weather.
And for those of you who feel like you've not quite finished ticking everything off your summer bucket list, well we've got news for you – Aqua Park at Bewl Water now has 15% off until the end of September! So, get a date in the diary and get ready to make a splash, because where better to squeeze out the remaining moments of summer than on a giant, floating inflatable obstacle course?
Slip and slide headfirst into the waters as you totally wipe out your teammates – whether you're an adrenalin junkie who returns to Aqua Park year on year, or you've never been before, here's everything you need to know as our team answer your most asked questions.
What is Aqua Park?
The Aqua Park at Bewl Water consists of 3,000 square meters of pure inflatable fun and is a giant obstacle course that floats on the reservoir.
The heart pumping course, reminiscent of those used on popular shows like Total Wipeout, consists of an ice tower, monkey bars, flip mattress, aqua slide, cliff, springboard, an XXL action tower, the twist, a balance bar, dome, hurdles, halfpipe, roundabout and lots, lots more, making it a paradise for water park enthusiasts.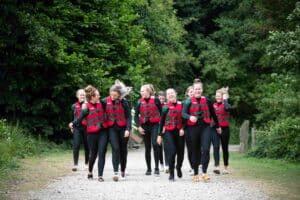 How do I get to the Aqua Park at Bewl Water?
Located on the border of Kent and Sussex, you can find Bewl Water conveniently located just off the A21, near Lamberhurst. Whether you're travelling from the north or the south, you'll want to follow signs to Bewl Water and turn off the A21 onto Bewlbridge Lane – if you're approaching from the south however, you'll need to pass Flimwell.
Follow Bewlbridge Lane for approximately 800 metres before turning left into the Bewl Water entrance where you'll be met by signposts guiding you to the car park which costs £6 for the day. Head down towards the reservoir (you won't miss it!) and follow the Aqua Park signage to register.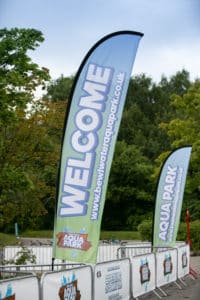 When does Aqua Park open?
The giant water playground returns to Bewl Water every summer! Our schedule runs from April to the first week of October with daily sessions starting at 9am until 5pm.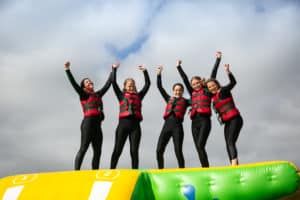 How much does it cost?
Like with all our activities, we advise booking in advance as sessions can get busy! Visitors can of course purchase their tickets on the day at reception, which costs £25 as opposed to £21 when booking online which includes a 50-minute session and use of a wetsuit and buoyancy vest.
We kindly ask visitors to arrive at least an hour before their timeslot to allow time to get checked in, changed, and briefed. Our mandatory safety briefing takes place at quarter to the hour.
Exclusive use costs from £2,520. Please email aquapark@bewlwater.co.uk to enquire!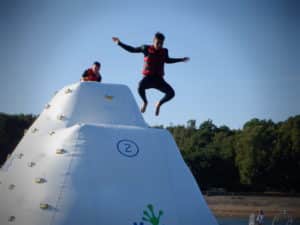 What is the age limit?
The best thing about Aqua Park is its appeal to boys, girls, men, and women of all ages! There are a few rules and regulations that include:
1) Children must 6 years old or above
2) 6 – 12-year-olds must have either a parent or guardian accompanying them on the Aqua Park
3) 13 –16-year-olds can have their parent or guardian viewing from the shoreside
There are lifeguards always watching, so parents feel free to grab a coffee from the Waterfront Café, sit back and relax!

Do you have to wear a wetsuit on the Aqua Park?
Whilst we've been blessed with one of the hottest summers on record, typical British weather doesn't always promise glorious sunshine, even in the peak of August! In this instance, if the water is below 18 °C visitors must wear a wetsuit, however they are optional if the water rises above this temperature.

Have fun, for less this September!
Summer may be slipping through our fingers but it's not all doom and gloom – there are still plenty of ways to enjoy what's left of the season! From our epic aqua park to our glorious cycle route, Bewl Water is jammed packed with activities the whole family will love, and this September, you can enjoy up to 20% off selected activities to really make the most of the last few weeks of summer.
All bookings must be made online.