Easter is upon us and with the whole family ready to embark on a fun filled week and weekend, its time to start thinking of activities. Let us at Bewl take care of that for you! We have some great ways for everyone to enjoy Easter here:
Go for a walk or bike ride! There's nothing like embracing the fresh outdoors and going for a long hike or bike ride and taking in the natural views which glorious Spring has to offer. If you fancy a long walk (it is a long weekend after all) then walk the whole of Bewl – it will take you 6 hours in total – bring lots of water and snacks to keep you going!  The well-maintained paths around the lake are suitable for all abilities, but if you simply can't go any further you can board a Water Taxi and do the rest of the journey in style!
Bikes available to hire on site.
Enjoy a Roast Dinner! Easter Sunday isn't complete without a wholesome roast dinner. Enjoy with a view over Bewl Water from the cosy indoors. £19 for 2 courses, £24 for 3 courses.
Kids Camps – What's more fun than a day jam packed full of sports, arts & crafts and outdoor activities –  fun for kids and useful for you whilst the holidays are on! Prices from £19.50.
Water Sports – for something a little different why not hire a pedalo, or take a fishing boat out and enjoy some fun on the water!
Go on an Egg Hunt! Put the fun into Easter with an Egg Hunt! Using your special Easter Map- you need to explore Bewl's Easter Trail and see if you can spot the eggs and bunnies lurking around, and make you way back to collect your Easter egg prize! £4 per child for trial map and prize.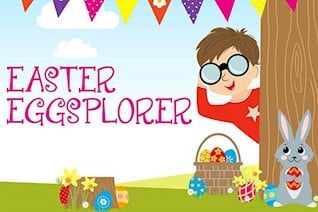 Explore on a Train Ride! Hop on board the Easter Express! Fancy a more relaxing way to take in the natural beauty of Bewl, take a seat, sit back… and relax! Why not finish off with a warming hot drink and slice of cake in The Waterfront Café afterwards… £3.00 per person (children under 1 year of age free of charge)