Tickets for the 2023 Aqua Park season at Bewl Water, South East England's largest reservoir are now on sale at discounted early bird prices just in time for Christmas. Those who buy their tickets in December 2022 can enjoy 20% off or enjoy a countdown of special offers in the new year.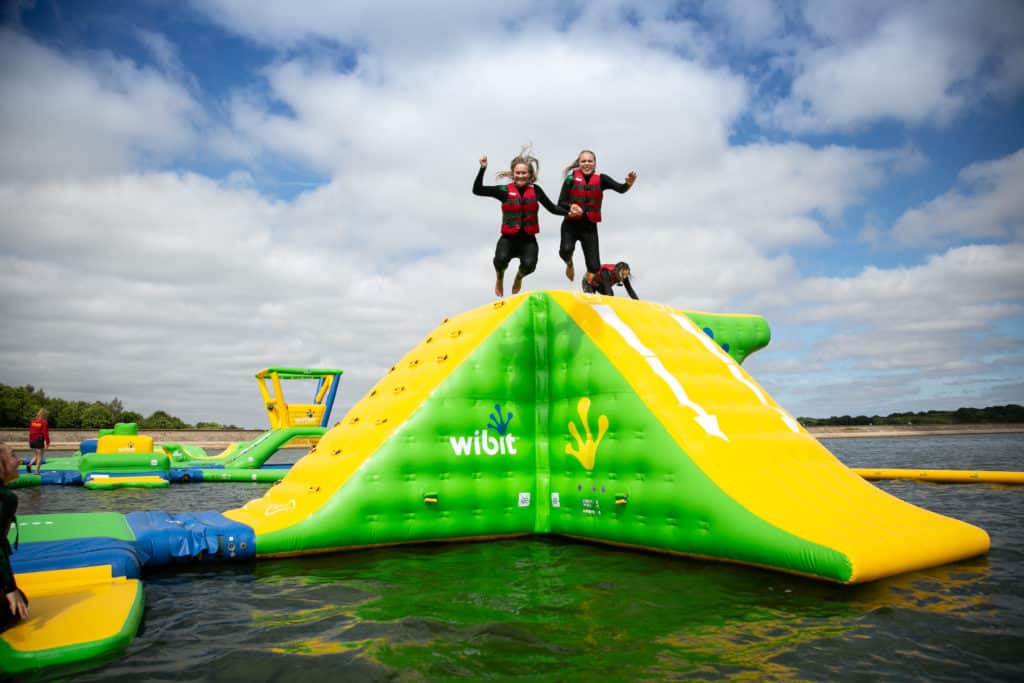 When it opened in 2019, the Bewl Water Aqua Park fast became one of the most popular summer attractions in the South East. The 'Total Wipeout' style inflatable water attraction is the first of its kind in Kent and took an impressive 35,468 bookings this season. [2022]
Dubbed the UK's best Wibit outdoor aqua park, the inflatable course consists of an ice tower, springboard, balance bar, flip mattress, monkey bars, aqua slide, and lots more. Its popularity has been driven by adventure seekers as well as sports enthusiasts and wild swimmers, according to business manager Andrew Daniells.
"There really isn't just one kind of person taking part," he said. "It's not just a kid thing. We get all the rugby clubs, groups of friends, and everyone else."
The giant Wibit course will return to the reservoir in April 2023 for the weekends before opening for weekdays during the summer.
Tickets can be bought online by visiting www.bewlwateraquapark.co.uk where they are on sale at discounted rates.
Usually £21 per person, water sports fans can enjoy 20% off until the end of December, 15% off until the end of January, 10% off until the end of February and 5% off until the end of March.
Tickets can also be purchased in the form of a voucher perfect for Christmas.
For interviews, images, and more information, please email molly.miller@salomons-estate.com
Editor's Notes: Bewl Water is the largest stretch of open water in the South East. Located in Lamberhurst Kent, the 800-acre site is open all year round where incredible landscapes, native wildlife and woodland adventures are just waiting to be discovered. With miles of scenic pathways to walk, cycle, run or ride, and hundreds of protected species to uncover, Bewl Water is packed full of healthy outdoor fun for all ages. Bewl Water is privately owned and is part of the Elite Leisure Collection group of companies.