Our rangers have put together a guide to help you decide the walking route that suits you.
Red then Purple: 3.5 miles
From the Boat House front door, keep the water on your left and walk past the rowing club and along the yard to the gate. Turn left onto Hook Hill and then follow the path round until you arrive at the taxi Jetty. Call 01892 628245 to arrange a taxi to take you to Hatherells Jetty. From Hatherells walk left through the trees and continue walking back to the Boat house.
Green then red: 5.75 miles
Arrange a taxi to take you to ferry point, walk to the left from the jetty and follow the route keeping the water on your left. You will get to rosemary lane, (D on the map) walk down the road and through the gate on the left at the end of the dam. Walk round the path until you get to the jetty. Call for a taxi to Stone Bay where you complete the walk. Turn right at the jetty and follow the path back to Hook Lane, here you will see a gate taking you past a house and into the rear of Bewl Water.
Of course you can walk all or any of the routes, just remember to take plenty of water, follow advice and have a mobile phone.
You should also be aware there is a charge for passengers on the water taxi.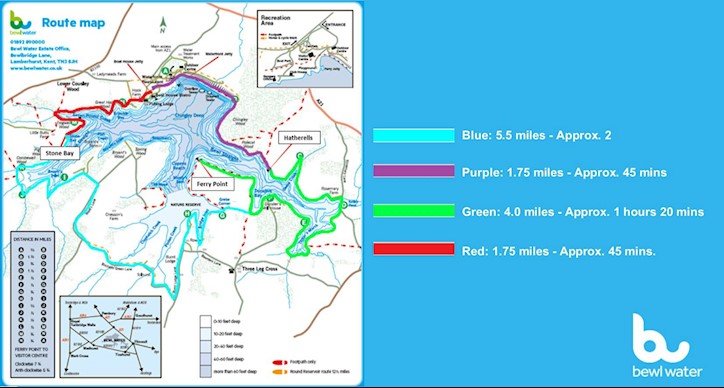 Find out more about Bewl Water's walks here!