Best Kept Secret…The Boat House Bistro
The Boat House Bistro has been referred to as a best kept secret in East Sussex, with stunning views overlooking the reservoir and a contemporary setting, it's hard to believe how people don't know about us.
We source all of our ingredients locally including our freshly caught fish from our very own Bewl Water reservoir, through to locally produced vegetables from farmers and suppliers based in East Sussex and Kent. Here we share a few reasons why we are the best kept secret…
Our Infamous Chips! It's true, our gastro chips have a reputation of their own! Many of our guests return time and time again to tuck into a delicious portion.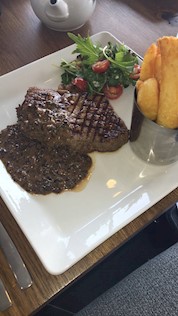 Dinner with a view… enjoy your dinner or even just a glass of chilled gin and tonic and watch the blissful views we have on offer at Bewl Water, the perfect way to unwind.
Service with a smile…The team at The Boat House Bistro always have glowing reviews, and that's because they are a team who love what they do and love where they work! Customers are their priority and nothing gives the team more satisfaction then happy customers enjoying the views as much as they do!
Fresh Menu- every week our menu changes at The Boat House Bistro, this is because we bring the freshest ingredients to our guests! With our market changing menu on a weekly basis it also means plenty of choice every time you visit us.
Value- you can dine in a beautiful contemporary setting, with delicious food at great value. Our set menu starts from as little as £19 for 2 courses and £24 for 3! We also feed the little ones for free- that's right all children under 5 eat free between 12-4pm!
There really is no finer way then to wind down after a crisp walk around Bewl Water and relax with a fresh and tasty meal in our Boat House Bistro, so next time you're here make sure you join us!