Bewl Water reservoir in Lamberhurst, Kent is the ideal place to spend those long days during July and August when the kids are off school. Not only is it home to the area's biggest aqua park, you can go paddle boarding, participate in laser challenge, have fun in the children's adventure playground or simply walk around its glorious grounds and take a picnic…
Located in Lamberhurst, Kent just off the A21, Bewl Water is open seven days a week from 9am and offers an extensive line up of things to do:
Aqua Park
Slip, slide and splash your way into summer with the UK's best Wibit outdoor floating sports aqua park. Perfect for groups, families, and children from aged six. Book online for £21 per person for a 50-minute session (£25 on the day at reception) and be sure to arrive 45 minutes prior.
Adventure Playground
The play area is free of charge and features a range of timber structures and slides that challenges the most adventurous minds. Set amongst the beautiful grassy grounds of Bewl Water overlooking the reservoir, it makes for the perfect picnic spot. Venture inside (just next to the café) for soft play. Children can enjoy a one-hour session costing parents just £5. (Adults and under ones free)
Laser challenge
Head into the woodland arena for all-out fun and adventure. Games include team deathmatch, last man standing, attack and defend, hunt the VIP and manhunt. Laser challenge is great for ages 8+ and costs £15 per person.
Paddle Board Hire
Explore the outstanding natural beauty of the reservoir through paddleboarding. Turtle Bay at Bewl Water provide lessons and hire to those new and experienced. Hire starts from £20 for one hour and a two-hour lesson costs £45.
Pedalos
Enjoy a pedalo trip on the reservoir and soak up some sunshine. Dependent on suitable weather conditions on the day, guests can hire a pedalo or boat for just £10 for 30 minutes.
Camping
If you're looking for peace, quiet and tranquillity, camping at Bewl Water will have all your boxes ticked. Perfect for families or couples, campers can stay for a minimum of two nights. For the glamourous among you, check out the yurts for a luxury twist on traditional camping. Find out more about the Bewl Water Camping.
Mid-week yurt offer: £95 per night (minimum 2 nights stay) on selected dates
All activities can be booked online 24/7 making arranging a visit to Bewl Water completely hassle free.
---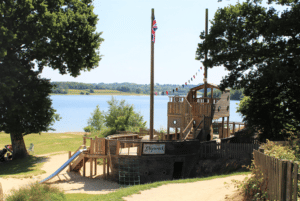 For photographs, interviews, and more information, please email molly.miller@salomons-estate.com
Editors' Notes: Bewl Water is the largest stretch of open water in the South East. Located in Lamberhurst Kent, the 800-acre site is set in an area of outstanding natural beauty, in the heart of the High Weald. Open all year, a visit to this stunning lake is fantastic family fun and a great day with a range of activities available. Bewl Water is privately owned and is part of the Elite Leisure Collection group of companies.